Welcome to the City of Inglewood, California's public art education website. Here you will find information about our diverse public art collection, architectural gems and cultural history. Our interactive map, lesson plans and presentations are tools to help you explore and understand our civic canvas of public and commercial spaces.
Inglewood's public art began with the 1930's Works Progress Administration projects. Waves of civic pride brought more art to public spaces in the 1970's, 2000's, and today.
Our private one percent for arts ordinance was adopted in 2004. Developers of certain types of commercial facilities to commission on-site artwork valued at 1% of the construction project valuation. Developers may choose to contribute the project valuation to the Public Art Fund, dedicated to for the creation and preservation of public art and related programs.
Inglewood adopted a municipal percent for art ordinance in 2011. The ordinance applies to any government agency building in the City. The benefits of art in public places are seen throughout Inglewood. Explore!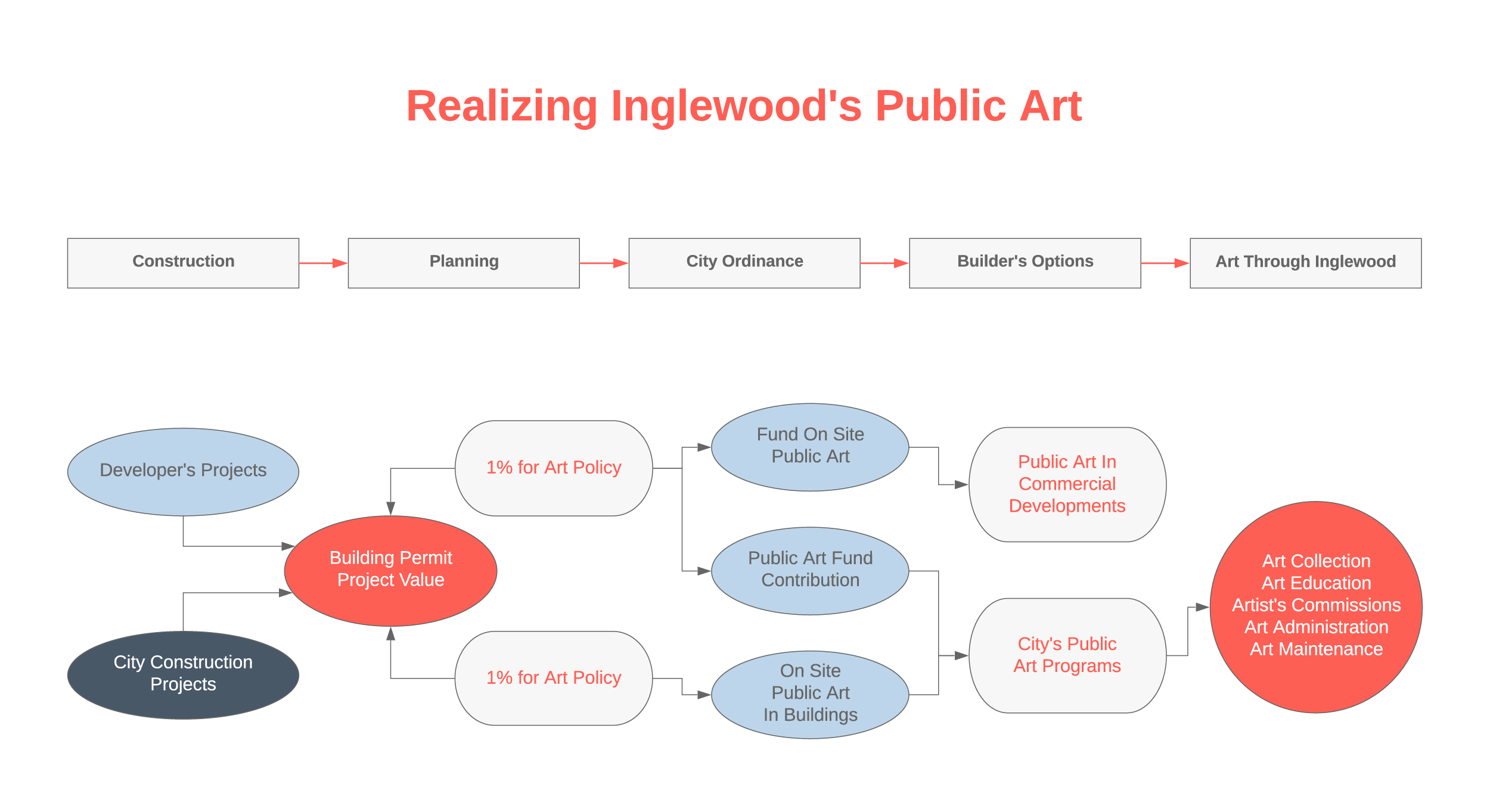 ABOUT THE CITY OF INGLEWOOD
The City of Inglewood is a full-service city that encompasses nine square miles and has a residential population of approximately 120,000. Approximately 800 full-time employees provide a full range of municipal services. The City Council City-Manager administration oversees police and fire protection services, engineering, public works, parks, recreation, library, planning, building, various maintenance services, water, wastewater and solid waste utility services.
Contact
For more information visit CityofInglewood.org
Questions: Parks, Recreation and Community Services Department 310-412-8750.
Cultural Arts Master Plan
The Arts Commission is an advisory body appointed by the Inglewood City Council.
District 1 Commissioner: Aletha Metcalf
District 2 Commissioner: Olivia Alvitre
District 3 Commissioner: Phyllis Battle
District 4 Commissioner: Vicki Perryman-Banks
At-Large Commissioner: Jacques Lesure
The Arts Commission works closely with the City of Inglewood's elected Council members to voice the needs and concerns of the community through the Parks, Recreation and Community Services Department.
District 1 Councilmember: George Dotson
District 2 Councilmember: Alex Padilla
District 3 Councilmember: Eloy Morales Jr.
District 4 Councilmember: Dionne Faulk
Regular Meetings
The Arts Commission meets on the Third Wednesday of every month at 6:30 p.m. at City Hall in the Community Room located on the 1st Floor. If a quorum is not achieved, the meetings may be cancelled.
Contact the Parks, Recreation and Community Services Department
(310) 412-8750 for the exact location of the monthly meeting.
Contact the Arts Commission:
City of Inglewood Arts Commission
c/o Parks, Recreation and Community Services Department
P.O. Box 6500
Inglewood, CA 90301
Phone: (310) 412-8750 / Fax: (310) 330-5750
Department of Parks, Recreation, and Community Services Staff
Sabrina Barnes, Director
Helen Lessick, Public Art Consultant
Inglewood's public art education project was initiated by the City to provide a resource for learning about the public art program and the community's art and culture offerings. The pride of Inglewood is here for you to explore.
Guided by the Cultural Arts Masterplan priorities, the Inglewood Arts Commission, Parks, Recreation and Community Services leadership and public art consultant Helen Lessick together conceived of a project designed to address the goals of arts education and public art awareness using 21st century tools.
CultureNOW began working with Inglewood in 2014 for a 2016 website launch. Allen Art Services re-designed this site in 2019 for multiple platforms and enhanced entries.
---
Photographs on this site were taken by artist David Roy or public art consultant Helen Lessick. The
following collections gave permission for us to share their historical photographs for civic educational
purposes. We thank:
City of Inglewood Public Library Collection
Academy of Motion Picture Arts and Sciences
Inglewood Historic Preservation Alliance
Inglewood Park Cemetery
UCLA Library Special Collections
Water and Power Associates waterandpower.org
Our cultural, historical and technical project required the combined efforts of many people and groups both locally and across the country. We are especially grateful to the extraordinary teams of cultureNOW and Allen Art Services.
---
Special Thanks